Library Now Offers Notary Services Free of Charge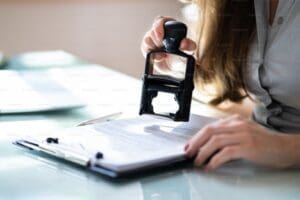 The Library now offers Notary Services at the Hopewell Location for free for the public. Appointments are strongly recommended. We cannot guarantee walk-in availability. Availability will be limited in the evenings and on Saturdays. Please call 804-458-6329 x1001 and ask to schedule a notary appointment. In many cases we can schedule same day appointments.
Please make sure you arrive with a current photo ID for notary services examples of accepted IDs include: U.S. Passport book, U.S. Passport card, Certificate of U.S. Citizenship, Certificate of Naturalization, Foreign passport, U.S. Green Card with photo, U.S. Military ID card, state-issue driver's license, or a state-issued ID card.
We cannot notarize the following documents:
• Birth certificates
• Death certificates
• Marriage licenses
• Divorce decrees
• Deeds
• Mortgages
• Certificate of Citizenship
• Certificate of Naturalization
• Student records (transcripts) kept in public education offices
• Already filed federal or state tax returns
• Social security cards
• Patent filing
• Company documents in the custody of the State Corporation Commission
• Court documents including federal, district, municipal, traffic, and criminal courts (i.e. wills that have been recorded, civil lawsuits filed, traffic tickets, judgements, titles)
Documents we can certify as a true copy include:
• Passports
• Driver's licenses
• Receipts
• Contracts
• Agreements
• Leases
• Insurance policies
• Financial records
• Medical records
Our Notaries are not attorneys and cannot offer legal advice or perform a legal act. We are insured.