Our 2nd Annual, Animals Along the Appomattox!
October 1- 31st, 2022
Animals Along the Appomattox is a full month of love and support for local shelters and aniamls! We will host 2 adoption fairs, collect donations, showcase adoptable animals, host a Pocahontas Park Ranger to discuss wild animals, and we will give away a Free Adoption to 3 lucky winners! One winner will be selected for each Hopewell, Prince George County, and Dinwiddie County, stipulations apply, please see below. Check our Explore for more information on all our programs!
Donation List!
We are working with The Dinwiddie County Animal Shelter, Prince George Animal Services, and the Hopewell Animal Shelter to collect donations. Items will stay in their locality meaning if you donate in Dinwiddie, it will go to Dinwiddie.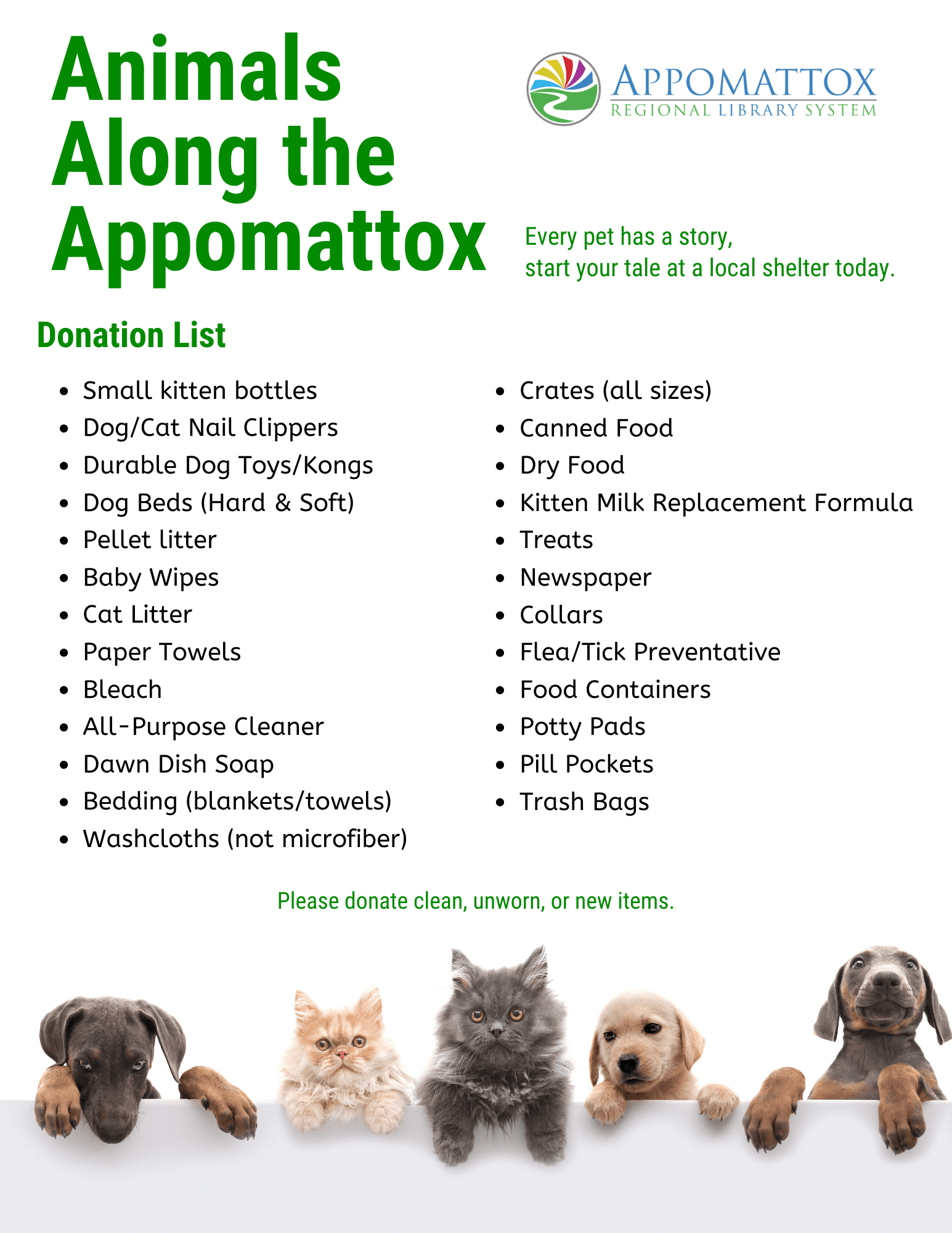 Win an Adoption!
Visit any branch of ARLS in October to enter to win a free animal adoption generously sponsored by The Hopewell & Prince George Friends of the Library! No purchase or donation required for entry. Winners will be based on locality, so if you enter in Dinwiddie County your adoption will come from Dinwiddie County's animal shelter. Entry open to those 18 years and older who confirm they are financially able to care for the cost of owning and loving a pet. Pets are like family and adopting one shouldn't be taken lightly. Winners will not receive cash. Winners are agreeing to share pictures of themselves and their chosen pet on the library's social media accounts.
AAA Mascot!
In 2019 we ran a staff mascot competition. 26 pets were submitting including one cow, one pig, and one rooster. Max, an adorable adoptee from Dinwiddie county was selected. You'll see Max at each of our libraries throughout October! Tag us on Facebook and Instagram!