How do I sign up for Hoopla?
Visit the website 
Click Sign Up, and select Appomattox Regional Library System as your home library
You will have to enter your library card number, a password and a valid email address…and that's it!
Which devices can I use to access Hoopla?
You can access content in the following ways:
On your home computer through the Hoopla website – Internet Explorer 8 and 9, Firefox version 8 and newer, Google Chrome, Safari
On a smart phone with the Hoopla app – iPhone 3GS, 4, 4S, 5C, 5S, and Android phones
On a tablet or other mobile device with the Hoopla app - iPod Touch 4th Gen or newer, iPad 2 and newer, and Android devices with Android OS 4.0 (Ice Cream Sandwich) and newer
I'm having problems getting Hoopla to work on my Samsung Galaxy S4 running Android software!
Unfortunately, this device is experiencing an issue with the Hoopla app that does not appear to happen on any other device. This issue is in regards to playback for audiobooks only. Hoopla is aware of the issue and is working on a fix…however, in the meantime you may experience an error that reads "Audiobooks are temporarily disabled on this device." Hang in there and we'll let you know when there's a fix!
How long can I borrow items for?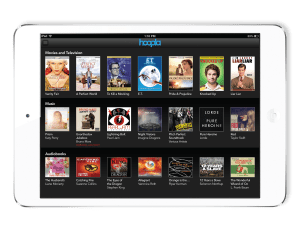 Borrowing periods for items are as follows
Movies/TV – 3 Days
Music - 7 Days
Audiobooks – 21 days
How many items can I check out?
There is no limit as to how many items you can have out at a time…but you may only have 12 checkouts per month. So if you take all 12 out at once, you're done until the month rolls over.
I get a message saying I can't check out because the daily limit has been reached…what does that mean?
The library has placed daily and monthly spending caps on the system to moderate the spending of our Hoopla funds. Once the daily cap has been reached no patrons may check anything else out for the day. This does not mean you've lost your 12 checkouts for the month…it only means you may have to wait a day or two to use them. If some patrons use all 12 of their checkouts at once, we will reach that daily total very quickly…however, after 12 they are done, and it will give other patrons a chance to get material. This is an effort to give everyone equal access as best we can.
What kind of content can I access through Hoopla?
Hoopla provides audio visual content to our patrons, appropriate for adults, teens, and children…there's something for everyone! Music and audiobooks are available on the same release date as they are in regular stores and online. But don't worry, we have older stuff too, in case you're looking for "an oldie but a goodie".
Although we won't have films as soon as they are released on DVD, you will find movies and TV episodes that came out in 2013…that's still pretty new! The newest of the new will still be available in DVD form in the library, and as soon as they are uploaded to the Hoopla collection you'll have access to it.