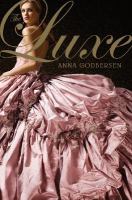 Book Review by E. Modrall
In 1899′s Manhattan.
Elizabeth Holland is forced to be engaged to the last man she would ever want to marry.
Diana Holland, is disgracing her family's name and experiencing the hardships of forbidden love.
Penelope Hayes is plotting her way to Henry's heart and Elizabeth's spotlight.
Carolina Broud, former maid, discovers that with some help, wealth could look good on her.
Henry Schoonmaker, a careless cad, finds he wants the only thing he can't have.
Read about how young love intertwines in the lives of Manhattan's socialites in The Luxe!
ARLS has a great new opportunity for teens interested in volunteering for the library.  Read a book on your reading level, write a book review, and earn 2 hours of volunteer time!  Start the process by completing a volunteer application that can be printed from our Volunteer page.    Don't forget to like us on Facebook!