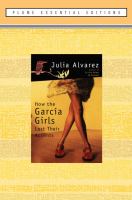 How the García Girls Lost Their Accents by Julia Alvarez
Book Review by Addie Eliades
            How the García Girls Lost Their Accents illustrates the impact that immigration to the United States from the Dominican Republic around 1960 had on four sisters. These girls' stories are told from varying points of view and in reverse-chronological order for a unique connect-the-dots account of their Dominican immigrant family. The girls face the challenges of adjusting to the customary lifestyles of different civilizations, along with such trials as puberty, mental breakdown, questioning authority and hierarchy, and dealing with the universal double standard of men and women. The themes in Alvarez's work are comparable to those in the works of Ricardo Rodriguez Gary Soto: In the midst of adapting to new environments, the García girls (like Rodriguez and Soto in their autobiographical works) also look within to discover their own identities.
            Though they comprise a clever stylistic approach, the reverse-chronological order and inconsistencies of the tense, setting and perspective are rather frustrating because trying to keep up with these shifts is distracting from the beautiful essence of Alvarez's poetic language. It is also a tedious task to plow through the obsessively detail-oriented writing. Metaphoric events throughout the novel obscure full understanding of their main points to an extent that makes some of them unbelievable. However, this novel has an asset of reflection that makes interesting the unfurling of character development in reverse chronological order. Significant real-world themes are explored as well as thought and emotion, providing backbone to Alvarez's idiosyncratic language. García Girls is not a recommendable joy read, but Alvarez's said reflection is contagious to the reader and may be worth the trouble; it hollows out in the reader a certain post-reading appreciation for her words not previously appreciated, and it incites in the reader consideration of his or her own beliefs.
ARLS has a great new opportunity for teens interested in volunteering for the library.  Read a book on your reading level, write a book review, and earn 2 hours of volunteer time!  Start the process by completing a volunteer application that can be printed from our Volunteer page.    Don't forget to like us on Facebook!